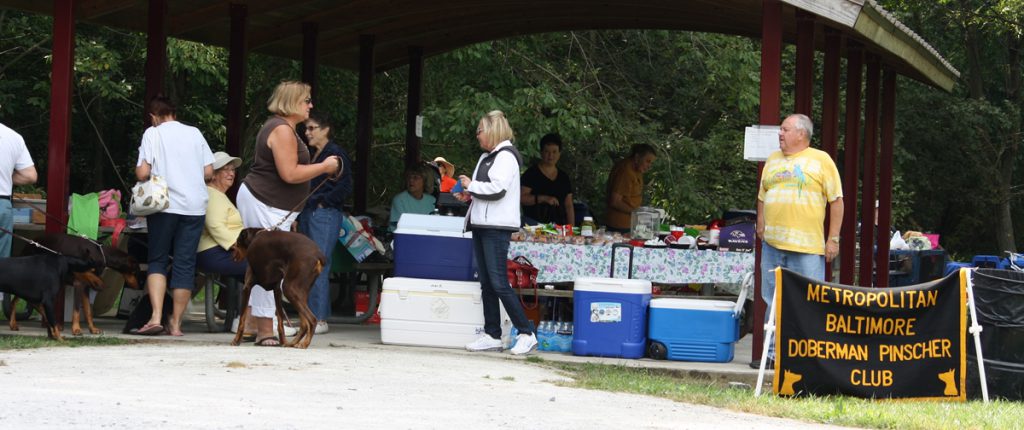 What is the Club about?
Each of us has in mind the image of a great Doberman. It is the dog we strive to either own, show, breed, or just share our lives with. It is this dog who educates and inspires us. He keeps us committed to this breed of breeds, despite the disappointments, the hard work, the frustrations of competition, or the rigors of a careful breeding program. His presence keeps us on the right track. He fills us with immeasurable joy, even if he never sees the show ring.
Most of us feel our dogs are ample reward for the patience, "stick-to-it-iveness", and dedication that any serious dog person must experience. Above all, they are a daily reminder of the need we all have to share our knowledge and our successes and failures, with only one thought in mind: The preservation of the Doberman in keeping with the breed standard.
It is with these goals that our Club began, and it is with these goals that our Club continues. Never has the need for education been more vital nor more pressing.
What does the club do?
Within our club membership, we own at least sixty Dobermans. Our club members have more than 150 years of combined experience in all areas of ownership. Our dogs include breed champions, obedience trial champions, obedience title holders of all levels, rally title holders at all levels, agility title holders, schutzhund title holders, stud dogs, and brood bitches.
In addition to holding one AKC sanctioned match each year, we host an annual specialty show in April which typically has an entry of over 100 Dobermans competing in breed, obedience and rally. We also support several other shows and obedience trials in our area with trophies and entries. We have held two Dog-A-Thons that raised over $500.00 for the Morris Animal Foundation. Donations are made regularly to various organizations for canine health and welfare. Our Club has undertaken a Dobe Rescue Program in which unwanted, or perhaps mistreated, Dobes are carefully placed in loving adoptive homes.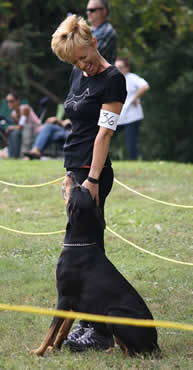 What can I do?
We have the responsibility and the power to contribute much.
By your participation in the Metropolitan Baltimore Doberman Pinscher Club, you can help to insure the best possible judging, encourage the education of novices, and work for an open and generous exchange of ideas. Serious people must continue to share what they have learned. If not, the hard-earned knowledge of the best of us will, in time, be lost. It is for these basic principles that we encourage you to support the Metropolitan Baltimore Doberman Pinscher Club. Our basic policies are honesty, integrity, and the desire to learn.
We can sit at the sidelines complaining. We can lose heart at the rapid rise of the popularity of our breed and all that that portends. Or we can be constructive and spend our energies for the advancement of the breed. Only then can we hope to preserve what attracted us all to Dobermans in the first place. Only then can we be sure that the ideal dog we first set out to obtain will exist tomorrow to offer future owners the soundness of mind and body, the elegance in appearance, the proud carriage, the nobility, energy, alertness, and loyalty we all know to be intrinsic to a fine and well-bred Doberman.
MBDPC meetings are held the fourth Tuesday of the month, but please contact us for exact dates and locations. Visitors are always welcome. The first step to join is to attend a meeting.