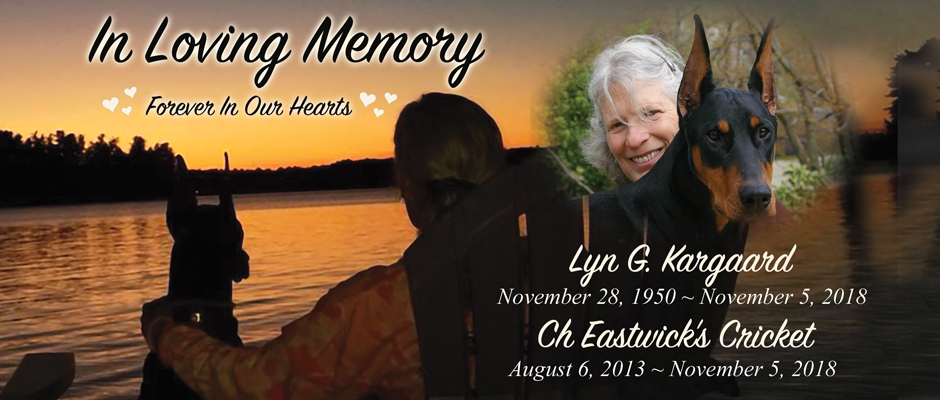 Member: Lyn G. Kargaard
DOB: 11-28-1950  DOD: 11-5-2018
Dog: Ch Eastwick's Cricket RATI, RATN, AX, AXJ, NF, CGC, ROM
DOB: 8-6-2013  DOD: 11-5-2018
Lyn Kargaard, and her beloved Doberman Cricket, passed away in a tragic accident on November 5, 2018.  Lyn was involved with the Doberman breed her entire life.  Her parents Mr. & Mrs. A. H. Kargaard bred and trained Dobermans (Viking Kennels) and Lyn grew up passionate about the breed.
Lyn owned her first Doberman in the early 70's, and from that moment on, Dobermans were her world. She joined the MBDPC in 1975 and has been involved in all aspects of the club: education, shows, matches, trophies, Vice President and much more.
She owned & trained one of the very few dogs championed in both AKC/UDC that also achieved the Schutzhund IPO III title (AKC/UDC Viking's Charlie Brown CDX, AX, AXJ, VPG3, IPO3, OB3, TT, ZTP1A, VCX, CC, ROM, LC-10D). Lyn firmly believed in the importance of temperament as well as conformation.
She worked hard to become a WAE Evaluator for the DPCA, because she believed strongly in supporting a program that emphasized the importance of correct temperament in the Doberman. She also believed in owner handling, and handled her own dogs when possible. She helped to finish Charlie Brown with two five-point majors. She showed Lizzie, one of her earlier bitches, at Westminster to cheering crowds of children that met her during the benching time.
She was featured in several articles on the Doberman breed. Her Dobermans Charlie Brown and Zelda were often used in seminars as excellent examples and ambassadors for the breed. In the past few years, her passion was agility, where she spent most weekends at agility trials running Cricket (Ch Eastwick's Cricket RATI, RATN, AX, AXJ, NF, CGC, ROM).
She was always willing to help anyone with their Doberman, from posting ears or teaching a puppy how to stack and "show their bite" to basic behavior and obedience training. She had the ability to make every person she met, feel as though they were her best friends. Lyn was loved from coast to coast and her contributions to the Doberman breed (and the people who love them) are immeasurable.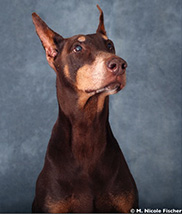 Member: Barbara
Dog: Tramp, Sharjet's Born to Run Bold
DOB: 1-12-04  DOD: 3-21-15
11.5 year old Dobergirl, has gone to the Rainbow Bridge
She had a good last day. She sunned herself on the deck, sucked up her last 2 meals, at 5 p.m. ran around in the yard for an hour playing with Fame and Trouble, spent the evening lounging in her favorite spot on HER sofa and at midnight simply got up, went out in the yard, lay down, closed her eyes and never got up. The only hint that there was something wrong was that she wasn't interested in licking our plates after we finished dinner. She is the only one of our dogs that hasn't made us take that horrible last trip to the vet when you have to face coming home alone. In her death as in her life she didn't believe in creating drama. Although she never had puppies of her own she raised 7 of my husband's Canine Companions for Independence service dog puppies and put up with the new Dobe brat Trouble for the last 6 months. She was a great momma dog. We will miss you Trampegirl.